Enquire for price
CALL 1300 665 061 NOW
The Frontier six-wheeled amphibious vehicle is the starting point for our XTV lineup — a point that demonstrates the high standards at ARGO. The Frontier 650 6x6 delivers the same dependable power and reliability of their bigger siblings to maximize your ability in the woods, mud or water. Our Classic transmission with ARGO Progressive Steering (APS) and the addition of the new Instant Torque Clutch (ITC) provide smooth handling for both new and seasoned outdoor enthusiasts. Feel in control, safe and excited at all times. The new '22 Frontier 650 6x6 continues to rise above the industry's standard definition of entry-level.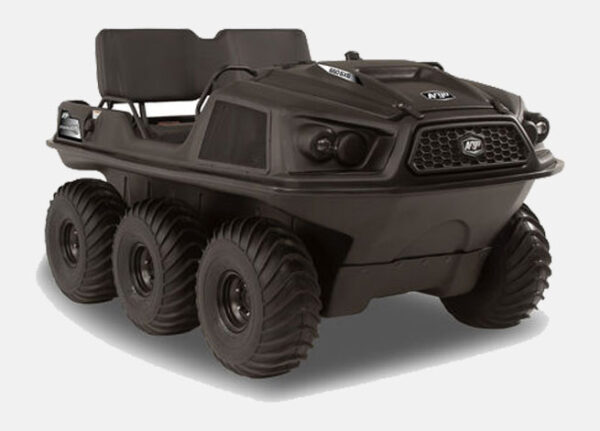 Colours
CLICK TO ENQUIRE
ENGINES

 

This Small Block V-Twin 23HP fan-cooled engine is designed and engineered to handle the most demanding terrain. Energetic and quick-starting, this powerhouse engine features a number of advanced technologies and integrated components but remain lighter and compact..

TRANSMISSION

The Classic transmission is our simplest design and operates like a mechanical skid steer, which gives it incredible maneuverability. In order to provide vehicle steering, braking force is applied directly to the output of the appropriate side of the transmission based on operator steering input. In both high and low range, the Classic transmission provides zero-radius turns to get you in and around extreme terrain. ARGO Progressive Steering (APS) with the Classic transmission achieves a smooth and comfortable drive experience to all XTVs in the Frontier Series.

RIMS & TYRES

Steel offset rims with low-pressure 24" tires are custom engineered with a paddle design for amphibious propulsion through water and optimized traction on the most extreme off-road terrain.
| | |
| --- | --- |
| HORSEPOWER | 23HP |
| CYLINDER | V-TWIN |
| FUEL SYSTEM | CARBURETOR |
| COOLING | FAN COOLED |
| ALTERNATOR OUTPUT (MAX) | 20 AMPS |
| SERVICE BRAKES | HYDRAULIC |
| STEERING BRAKES | HYDRAULIC |
| AUTO CHAIN LUBRICATION | N/A |
| BRAKE COOLING FAN | ACCESSORY |
| TRANSMISSION | CLASSIC W/APS |
| TRANSMISSION OPTION | ST |
| DRIVE BELT | STANDARD |
| FULL SKID PLATE | STANDARD |
| BRUSHGUARD | ACCESSORY |
| WINCH | ACCESSORY |
| FRONT RACK | ACCESSORY |
| BILGE PUMP | STANDARD |
| ROPS | N/A |
| STRETCHER FRAME | N/A |
| REAR MESH | N/A |
| ROOF | N/A |
| POWER DUMP BOX | N/A |
| LOAD CAPACITY - LAND | 595 LB (270 KG) |
| LOAD CAPACITY - WATER | 395 LB (179 KG) |
| TOWING CAPACITY | 1,200 LB (544 KG) |
| SEATING CAPACITY - LAND | 4 |
| SEATING CAPACITY - WATER | 2 |
| FUEL CAPACITY | 8.5 GAL (32 L) |
| SPEED - LAND | 22 MPH (35 KM/H) |
| SPEED - WATER | 3 MPH (5 KM/H) |
| WEIGHT | 945 LB (428 KG) |
| LENGTH (INCLUDES WINCH WHEN STANDARD) | 96 IN (2,439 MM) |
| WIDTH | 58 IN (1,473 MM) |
| HEIGHT | 51 IN (1,295 MM) |
| AXLE BEARING EXTENSIONS | N/A |
| ENTRY STEP | ACCESSORY |
| TIRES | ARGO XT115 24X10-8 |
| RIMS | STEEL OFFSET |
| GROUND PRESSURE (18" RUBBER TRACKS) | 0.73 PSI (5 KPA) |
| GROUND CLEARANCE (TIRES) | 10 IN (254 MM) |
| GROUND CLEARANCE (TRACKS) | 11 IN (279 MM) |
| WARRANTY | 1 YEAR |
| COLORS | GREEN, BLACK, ORANGE |