Enquire for price
CALL 1300 665 061 NOW
The Frontier 700 8x8 has the same robust characteristics of the 650 8x8 plus more. The Frontier 8x8's carry more and offer much more traction than a conventional ATV or UTV and are a lot safer with a 42 year 'perfect' safety record to prove it!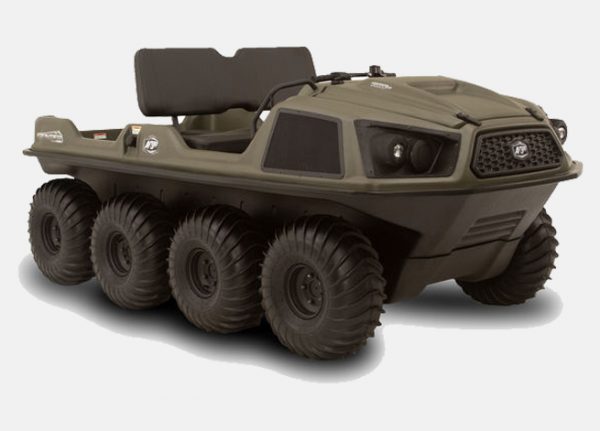 Colours
CLICK TO ENQUIRE
ENGINES

 

High performance 4-cycle, Twin cylinder, OHV, low-vibration engines deliver clean, dependable power for your Frontier in all seasons. Available 18HP-26HP Twin Cylinder Fan Cooled Engines.

TRANSMISSION

The Classic transmission operates like a mechanical skid steer that gives it incredible maneuverability. Our least complex design, in order to provide vehicle steering, braking force is applied directly to the output of the appropriate side of the transmission based on the operator steering input. In both high and low range, the Classic Transmission provides a zero-radius turns to get you in and around extreme terrain. Available in Classic High Torque or Standard.

RIMS & TYRES

Steel Offset Rims with low-pressure 24" tyres are custom engineered with a paddle design for amphibious propulsion through water and optimized traction on the most extreme off-road terrain.
| | |
| --- | --- |
| HORSEPOWER | 23HP |
| CYLINDER | V-TWIN |
| FUEL SYSTEM | EFI |
| COOLING | FAN COOLED |
| ALTERNATOR OUTPUT (MAX) | 20 AMPS |
| SERVICE BRAKES | HYDRAULIC |
| STEERING BRAKES | HYDRAULIC |
| BRAKE COOLING FAN | STANDARD |
| TRANSMISSION | CLASSIC W/APS |
| TRANSMISSION OPTION | ST OR HT |
| HD DRIVE BELT | N/A |
| FULL SKID PLATE | STANDARD |
| BRUSHGUARD | OPTIONAL |
| WINCH | OPTIONAL |
| FRONT RACK | OPTIONAL |
| BILGE PUMP | STANDARD |
| LOAD CAPACITY - LAND | 840 LB. (381 KG) |
| LOAD CAPACITY - WATER | 740 LB. (335 KG) |
| TOWING CAPACITY | 1,200 LB. (544 KG) |
| SEATING CAPACITY - LAND | 6 |
| SEATING CAPACITY - WATER | 4 |
| FUEL CAPACITY | 7.1 US GALLONS (27 LITRES) |
| SPEED - LAND (ST TRANSMISSION) | 19 MPH (31 KM/H) |
| SPEED - LAND (HT TRANSMISSION) | 13 MPH (21 KM/H) |
| SPEED - WATER | 3 MPH (5 KM/H) |
| WEIGHT | 1210 LB. (549 KG) |
| LENGTH | 119 IN (3,023 MM) |
| WIDTH | 58 IN (1,473 MM) |
| HEIGHT | 51 IN (1,295 MM) |
| AXLE BEARING EXTENSIONS | STANDARD |
| ENTRY STEP | OPTIONAL |
| TIRES | ARGO AT189 24X10-8 |
| RIMS | STEEL OFFSET |
| GROUND PRESSURE (18" RUBBER TRACKS) | 0.72 PSI (5 KPA) |
| GROUND CLEARANCE (TIRES) | 9 IN (228 MM) |
| GROUND CLEARANCE (TRACKS) | 10.5 IN (267 MM) |
| WARRANTY | 1 YEAR |
| COLORS | GREEN, BLACK, ORA |